The right diet for AMD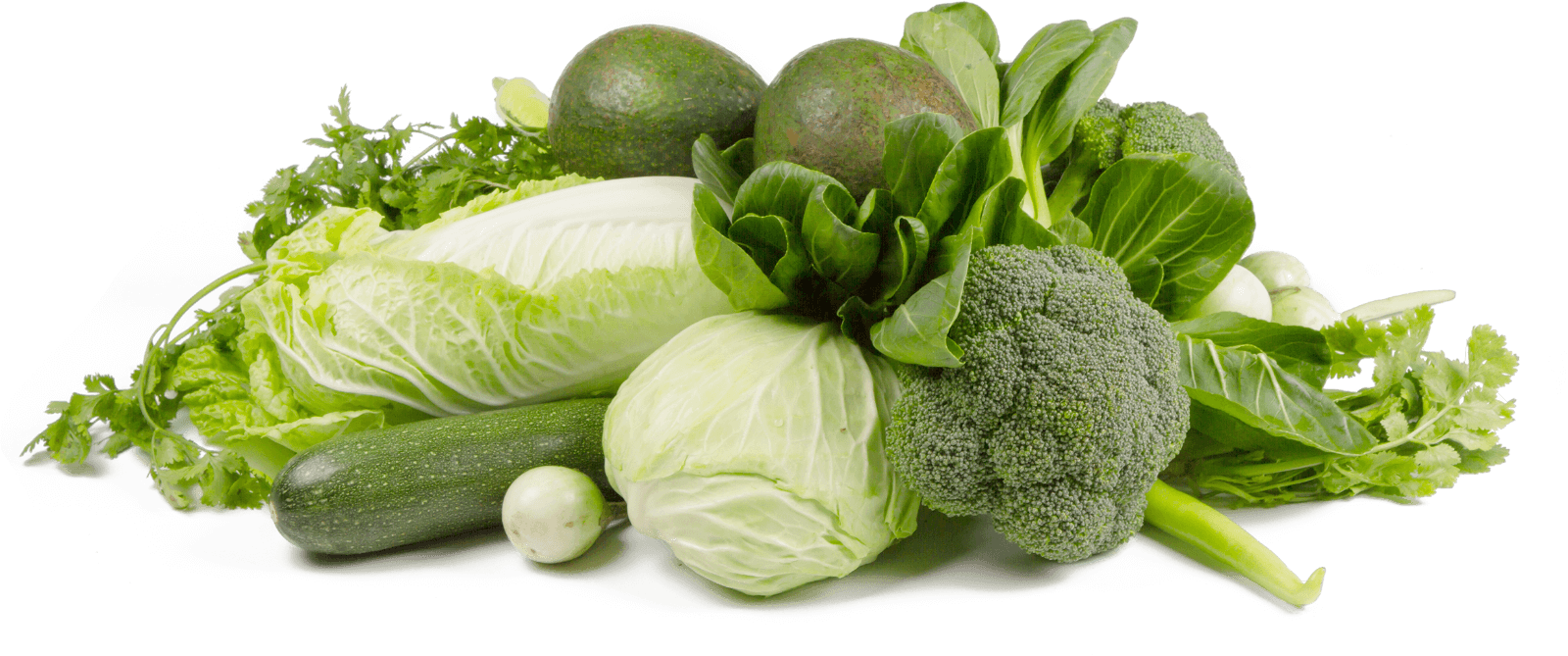 In any case, it is important to follow a healthy and balanced diet rich in vitamins, minerals and trace elements.
Vitamins C and E are antioxidants. This means that they are able to neutralise free radicals caused by oxidative stress. Because age-related changes are almost always based on the destruction of cells caused by free radicals, these results won't come as much of a surprise. The positive effect of zinc is likely based on an improvement in the general function of the eye. Zinc is essential for the healthy functioning of the eyes.
Lutein and zeaxanthin are carotenoids which are enriched in the macula and as an essential Pigment and which provide the yellow appearance. They can be compared to sunglasses, as they filter short-wave light in the centre of the retina (macula lutea), providing a protective effect on the photoreceptors.
Once AMD is diagnosed, a healthy diet alone is no longer sufficient. The best evidence for this is offered by the two AREDS trials. These clinical trials have proven the effectiveness of a specific combination of antioxidants and zinc for AMD.
All PROMACULA® preparations are therefore based on the scientific findings of the AREDS trials and were specifically developed for patients with AMD.
The clinically proven formulation of PROMACULA® can slow down AMD.
Everyday AMD prevention
Selected foods can help to prevent age-related macular degeneration. The following list is an overview:
LEBENSMITTEL mit besonders hohem LUTEIN-GEHALT
Green cabbage
Lutein and zeaxanthin: 19.697 µg / 100 g,
Iron and oxalate facilitate the absorption of carotenoids.
Vitamin C: 105 mg/100 g
Spinach
Lutein and zeaxanthin: 15.690 µg / 100 g,
Chard
Lutein and zeaxanthin: 11.015 µg / 100 g
Basil
Lutein and zeaxanthin: 5.650 µg / 100 g
Rocket
Lutein and zeaxanthin: 3.555 µg / 100 g
Pistachios
Lutein and zeaxanthin: 2.903 µg / 100 g
Peas
Lutein and zeaxanthin: 2.903 µg / 100 g
Edamame beans
(green soy beans)
Lutein and zeaxanthin: 1.619 µg / 100 g
Chicken
Lutein and zeaxanthin: 102 µg / 100 g
Variety of fruits
Blueberries, cherries, avocado, pears, raspberries, apples, oranges
FOODS rich in VITAMIN C
| | |
| --- | --- |
| Rose hip | approx. 1,250 mg / 100 g (depending on variety) |
| Sea buckthorn | 450 mg / 100 g |
| Guava | 270 mg / 100 g |
| Blackcurrants | 175 mg / 100 g |
| Parsley | 160 mg / 100 g |
| Brussels sprouts | 110 mg / 100 g |
| Broccoli | 95 mg / 100 g |
FOODS rich in VITAMIN E
Vegetable oils
45 – 80 mg / 100 g (depending on variety)
Pure vegetable oils are also ideal for a sufficient supply of vitamin E. Sesame, olive and wheat germ oils are particular rich in the vitamin
Linseeds
16 mg / 100 g
Nuts
10,5 mg / 100 g
Sweet potatoes
4,5 mg / 100 g

Mango

3 mg / 100 g
Fish
3 mg / 100 – 150 g (depending on variety)
Blackcurrants
ca. 2 mg / 100 g

Avocado

ca. 2 mg / 100 g
The trace element zinc is required in somewhat lower quantities. Consumption of meat, cheese, eggs and prawns would cover the daily requirements. Vegetarians resort to wholegrain products, nuts, oats, soy and lentils to cover their zinc requirements.
We get the very important polyunsaturated omega-3 fatty acids by eating oily salt-water fish like salmon and anchovies. Eating a fillet of fish or a fish salad more than once a week is not only tasty but also healthy.Mit einem hochwertigen Öl erfreuen wir nicht nur unsere Geschmacksnerven. Chiaöl, Leinöl und Rapsöl liefern ebenfalls die wichtigen Fettsäuren.
The following factors must be borne in mind:
Carotenoids in raw vegetables are firmly bound to the cells, reducing the absorption in the body to a minimum. It is better to gently steam or stew vegetables with the fat-soluble carotenoids using a high-quality oil. This will loosen the chemical compounds, allowing the carotenoids to be better absorbed by the body. This metabolises much better.
Increased nutritional requirements for advanced macular degeneration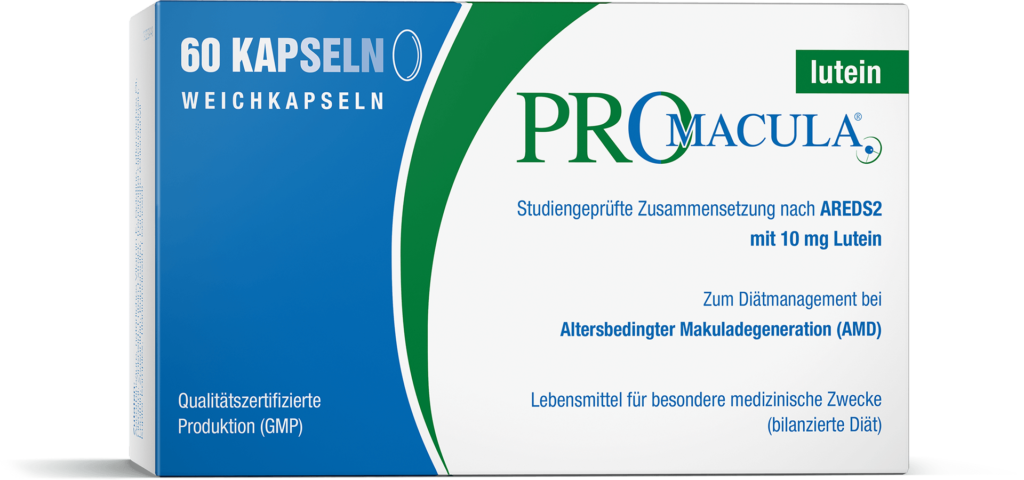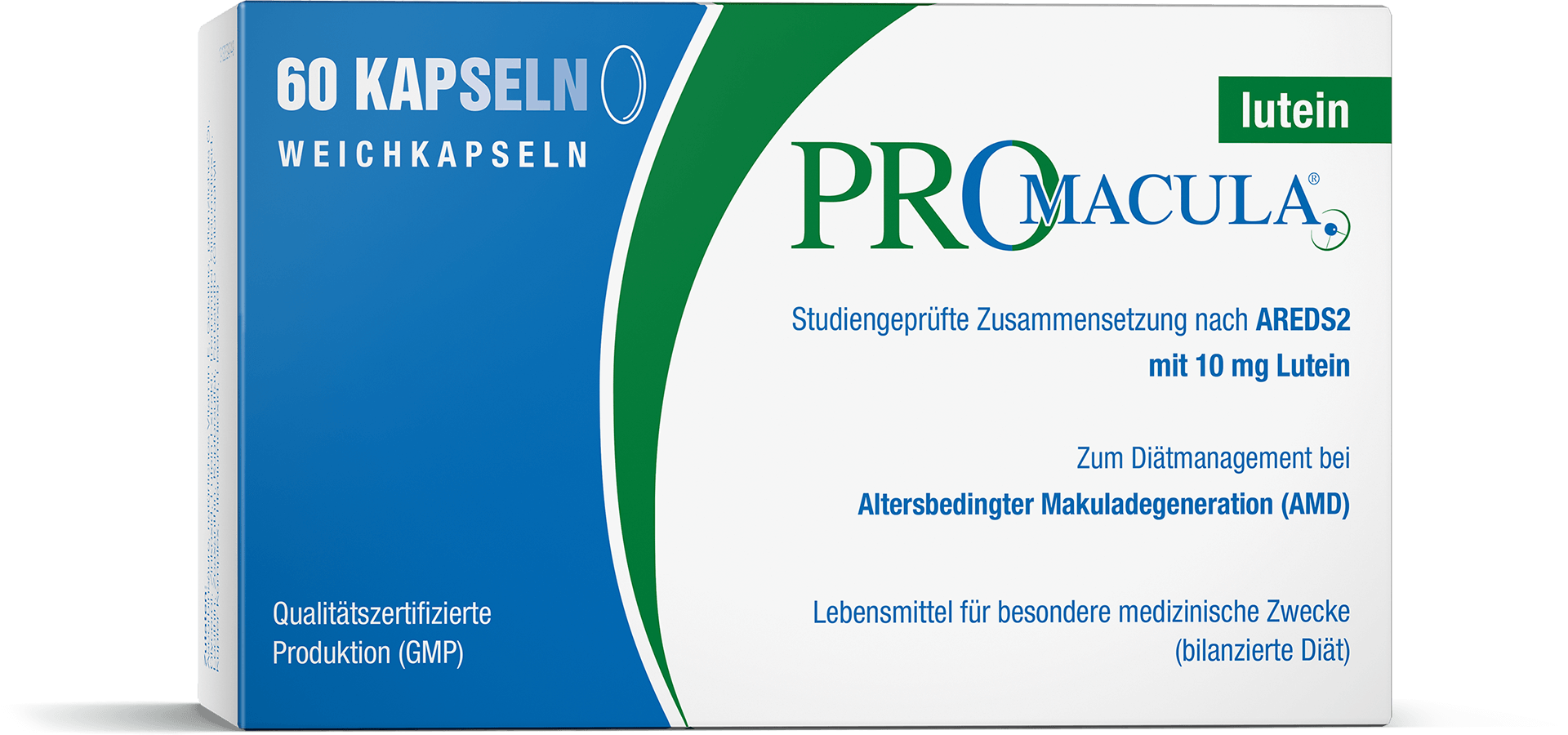 AMD causes patients to have an increased nutritional requirement, which can no longer be covered by a healthy diet alone, as very high doses are now required. Taking specific AREDS2 preparations such as PROMACULA® is therefore indispensable.
Prevention by protecting and relieving strain on eyes
Working at a PC/laptop with enlarged text can be less of a strain.
A daylight lamp to illuminate the keyboard provides almost identical light conditions between the screen and keyboard surface.
Specially prescribed PC glasses tailored to eyesight and distance to the screen is the perfect eye protection for anyone working at a monitor.
When reading the newspaper or a book without sufficient daylight, always switch on a reading lamp.
When in the sun, at the sea and in the mountains, please ALWAYS wear UV-tested sunglasses. In the mountains it is best to wear ones with side UV protection.
If a bright bank of cloud starts to dazzle, the eyes should also be protected with UV-tested sunglasses.
Annual eye check-ups are recommended no later than from the age of 50. This will identify any macular degeneration at an early stage. If advanced AMD is diagnosed in good time, further worsening can be slowed down by taking PROMACULA®. PROMACULA® fully corresponds to the AREDS2 trial formulation and is thus based on the current medical standard.
Further preventative measures
If you're a smoker, you should give up the nicotine since this impedes the blood flow to the eyes. Smoking therefore increases the risk of suffering from AMD.
Couch potatoes are well-advised to change their habits. Lack of movement leads to poor circulation and is in turn a risk factor for AMD.
If there is known high blood pressure, in other words hypertonia, cardiovascular disease or diabetes, targeted treatment must be discussed with the general practitioner or specialist (internal medicine, cardiology or endocrinology). All three diseases are known risk factors for AMD.
If the patient is overweight, then a dietician should be sought to discuss a targeted weight management programme. Obesity is ultimately also a risk factor for AMD.
Chronic renal disease is likewise a risk factor. With regard to blood levels, a high cholesterol level should be lowered so that it does not become a risk factor for AMD. This also applies for raised LDL values, triglycerides and homocysteine values. A vitamin B12 and folic acid insufficiency are also cause for concern.
Conclusion
A healthy way of life with a balanced diet, a stress-free lifestyle and sufficient physical activity is the best way to prevent AMD.
If, however, AMD has already been diagnosed, the progression of the disease can no longer be stopped with a healthy diet alone. In this case, other measures are required. AREDS2 preparations such as PROMACULA® are therefore essential for slowing down the progression of AMD.
Just 2 capsules, once a day, look after your eyesight.